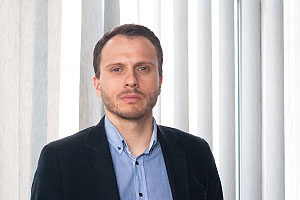 Absolwent Wydziału Architektury Politechniki Krakowskiej.
Stypendysta Collage of Art and Design, University of Tennessee w Knoxville
Swoje doświadczenie zawodowe zdobywa od 2004 roku
zarówno poprzez współpracę z biurami architektonicznymi jak i własną działalność projektową. Obecnie praktykę realizuje głównie poprzez projekty wnętrz mieszkalnych i komercyjnych.
Oprócz doświadczenia projektowego dysponuje również doświadczeniem praktycznym zdobytym podczas pracy dla generalnego wykonawcy osiedli mieszkaniowych oraz podczas realizacji własnych projektów.
Zainteresowania naukowe skierowane są głównie na współczesne formy zespołów mieszkaniowych i ich związki z historycznymi oraz współczesnymi tendencjami projektowymi.